TAMCO offers multiple Toku rock drills for a wide variety of applications. Whether you're drilling through rock, concrete, or brick. TAMCO offers a rock drill that will fit your distinct requirements.
The Toku TS-55 60 pound class rock drill has all the power needed for the biggest jobs. They feature rugged construction and are designed for larger diameter bits and deeper drilling jobs.
The Toku TJ-20 and TJ-15 are mid-sized rock drills that pack a big punch. These drills are great for road building, shaft sinking, quarrying, as well as general demolition or construction work. Both models include standard, removable in line oilers.
The Toku TH-800 and THD-1100N are lightweight drills that are able to get into smaller spaces other drills cannot. These D-handled drills pack big power in a compact package.
All Toku rock drills feature replaceable chuck bushings, drop forged alloy steel construction, and forged latch retainers. Mufflers are available for the TS-55, TJ-20, and TJ-15 models. TJ-20 and TJ-15 models include Clear-View in line oilers.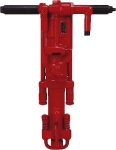 | | |
| --- | --- |
| | 7/8″ x 3-1/4″, 7/8″ x 4-1/4″, or 1″ x 4-1/4″ |
| | |
| | |
| | |
| | |
| | |
| | |
| | |
| | |
| | |
| | |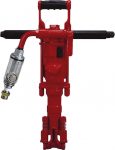 | | |
| --- | --- |
| | 7/8″ x 3-1/4″ or 7/8″ x 4-1/4″ |
| | |
| | |
| | |
| | |
| | |
| | |
| | |
| | |
| | |
| | |
| | |
| --- | --- |
| | 7/8″ x 3-1/4″ or 7/8″ x 4-1/4″ |
| | |
| | |
| | |
| | |
| | |
| | |
| | |
| | |
| | |
| | |