Toku paving breakers offer a rugged and reliable tool for whatever tasks you have for them. Toku breakers are available in 30, 40, 60, and 90 lb. classes. All Toku breakers feature a rugged four bolt back head, drop forged alloy steel construction, forged latch retainers, replaceable chuck bushings, and safety triggers. Optional mufflers are available.
Toku 30 and 40 pound hammers are the perfect size and weight for light to medium construction. These tools work great for demolishing black top, masonry walls, bridge decks, or digging in frozen soil.
The Toku 60 and 90 pound class breakers are designed with larger demolition jobs in mind. Whether it's breaking rock, reinforced concrete, or pavement, these breakers have plenty of power to get the job done.
| | |
| --- | --- |
| | 1-1/8″ x 6″ or 1-1/4″ x 6″ |
| | |
| | |
| | |
| | |
| | |
| | |
| | |
| | |
| | |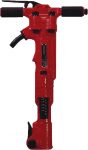 | | |
| --- | --- |
| | 1-1/8″ x 6″ or 1-1/4″ x 6″ |
| | |
| | |
| | |
| | |
| | |
| | |
| | |
| | |
| | |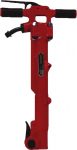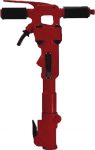 | | |
| --- | --- |
| | 7/8″ x 3-1/4″ or 1″ x 4-1/4″ |
| | |
| | |
| | |
| | |
| | |
| | |
| | |
| | |
| | |