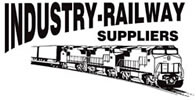 All TAMCO Railroad Tools Are Available Exclusively
Through Industry-Railway Suppliers
TAMCO offers a complete line of hand tools, specialty bars, and handled tools for the light and heavy rail applications. Please contact Industry Railway Suppliers at (630)766-5708 for a complete list of tools and availability.
All TAMCO railroad tools comply with the latest AREMA specifications.
Scaling Hammer (Eye Size 3/4″ x 1″)
Cross Pein (Eye Size 3/4″ x 1″)